The Richmond Zine Fest will be held on Saturday October 11th from 11 am til 5 pm at the Gay Community Center of Richmond. This awesome event is completely FREE to attend. Even the workshops!!

We will have approximately 40 vendors from all over the US, but focused mostly in the mid-atlantic selling DIY published zines, books, comics, etc.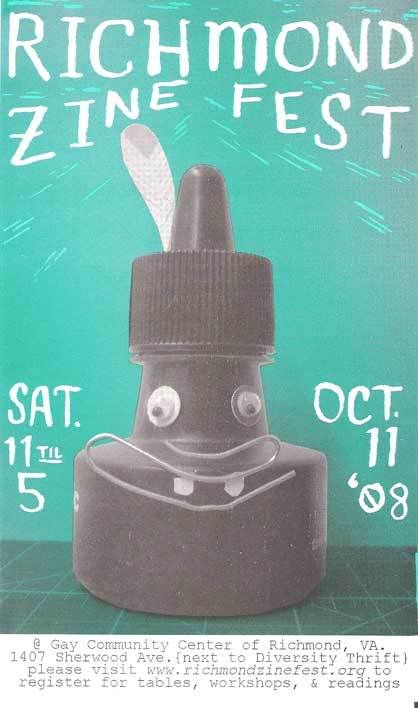 In the enclosed back area of the GCCR
Bicycle Maintenance and Safety - Shelley Briggs - 11:15am-12pm

Teaching basic bicycle maintenance and tune-up to ensure that the rider is riding safely, as well as understanding how to fix issues such as flat tires and break adjustments. Supplies will be provided. If anyone has a bike problem, bring your bike with you.

Crucial Sisterhood to Crucial Motherhood - Krissi Vanderburg - 12:10-1:40pm
Crucial Sisterhood to Crucial Motherhood - group discussion, presentation, and how-to all in one
Part One is about how we can increase our comfort and knowledge about womyn's bodies - what goes in and what comes out and the politics involved. It begins with a short presentation reviewing DIY health care, resources, birth control options, menstruation, masturbation, and sex. This part of the workshop will end with group discussion and questions. It will be fun and exciting as discussions of masturbation and sex always are. **All genders are welcome**
Part Two is about how we can increase our comfort and knowledge about natural pregnancy, labor, and birth and discuss the political aspects that are involved. It will begin with a presentation about the politics and medicalization of pregnancy and birth and then the natural alternatives to conventional birthing. This part of the workshop will end with a group discussion about natural pregnancy, birth, and alternative parenting. **All genders are welcome**
Crucial Sisterhood and Crucial Motherhood zines will be free to workshop participants!

Urban Gardening from Scratch - Richmond Food Collective 1:50-2:50pm
This workshop will cover the basics of gardening in and around urban locations. We will discuss site selection and preparation, advising urban gardeners on finding city space for a vegetable patch and how to prepare it for planting. There will be some discussion of small-scale composting and vermiculture, two great ways to grow nutrients for your garden soil. We will talk about plant selection as well -- which plants will thrive in your small space, when to plant them, and where to find seeds and seedlings. Basic pest control will also be addressed, and of course there will be time for YOUR gardening questions!

Stash: Personal and Community Issues around Substance Use - Liz Canfield & Quillin Drew - 3-4pm
An interactive, facilitated discussion and info-share about issues of substance use and harm reduction. We will discuss issues of identity and solidarity when it comes to personal and community decisions around substance use. Some issues on the table are: harm reduction, "use vs. abuse", straight-edge, and how punk communitites structure themselves around ideologies and practices of substance use and/or substance abstention. We will also facilitate a discussion about how publishing/zine making factors into personal and community reactions to these issues.

The Prison Industrial System and Prisoner Support - Mo Karn - 4-5pm
This workshop will explore the current prison industrial complex, introducing people to the topic and relevant issues. The workshop will discuss the injustice of the system. The workshop will also show examples of how this issue has manifested itself in the zine world. Examples of zines written by prisoners and about prisoners will be shown. A discussion of why the zine medium is popular for this subject will be talked about. And there will be information provided on how people in the zine community can provide support for prisoners.

At the side/stage area of the GCCR
Sarah Rose reading - 12-12:10pm

Sarah Rose is the writer of the zine Tazewell's Favorite Eccentric. She will be reading from one of the more recent issues.

Consent is cool! - Can I Kiss You? Collective - 12:15-2:15pm
What is consent? Why is it important? When and how should you talk about consent? Can consent be sexy? These questions and more will be answered!

All About Mini-Comics - Rob Ullman & Dylan Williams - 2:30-3:30pm
A primer on the ins and outs of producing and publishing mini-comics, the red-headed stepchild of the 'zine world! Rob Ullman and Dylan Williams will discuss the history of the artform, avenues and methods of distribution, and offer advice about how to produce your own mini-comics. Bring yourself and a lot of questons!

or visit http://www.richmondzinefest.org

Hope to see everyone Saturday!